Excelling The Power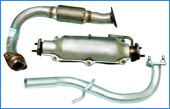 ONYX AUTO INDIA brings forth an extensive range of Automobile Spare Parts that includes Rear Silencer Assembly, Muffler Silencer, Stainless Steel Exhaust Tail Pipes, Front Exhaust Pipe, etc. All these Automobile Spare Parts are designed precisely for easy instillation in all kinds of Passenger Cars. Our company has witnessed an incredible rise, since its inception in the year 2008, under the ownership of Ms. Nidhi Gupta, who has 10 years of experience in the manufacturing of Automobile Spare Parts. Our products are available in the market under the brand name of 'ONYX'. We are known among the reputed Automobile Spare Parts Manufacturers & Suppliers in India. In a very short span of time, we have been able to establish a huge clientele in India. Our motto is to provide utmost satisfaction to our clients, by offering them with quality products at highly competitive prices. In addition, we stick to our commitment and deliver our Automobile Spare Parts within the stipulated timeframe. Read more...
ONYX AUTO INDIA is a name, which has established itself by...

We are using good quality raw material and primary...

Drive Shaft is a mechanical part of the automobile engine that...

ONYX AUTO INDIA offers a wide assortment of Exhaust...

ONYX AUTO INDIA is engaged in the...
Contact Us
Mobile : +91-9868183732
Call Us : 08048005586